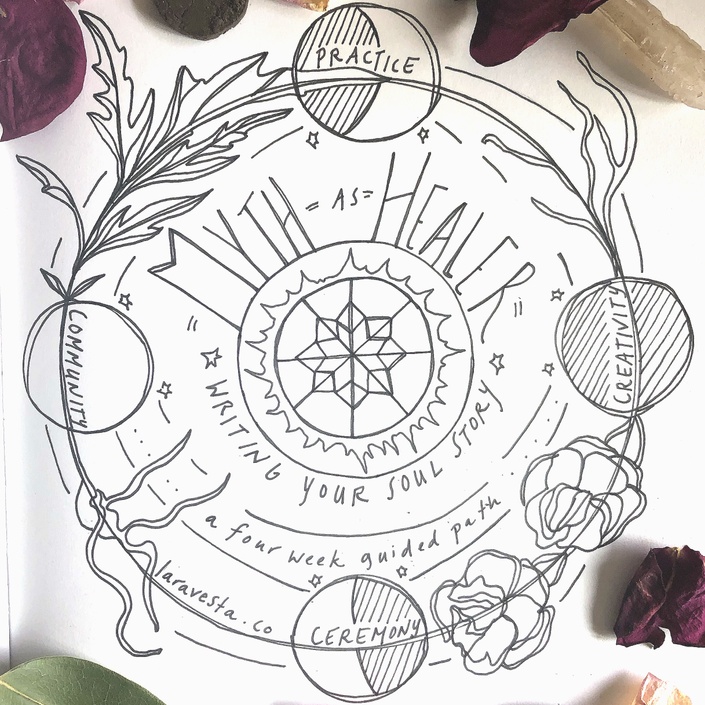 Myth as Healer
Story is a sharp knife.
Story is a spirit being.*
Storytelling is how we survive.*

The universe is made of stories, not of atoms.**
In the world of myth and magic there once lived a woman with an ear for the wind. She lived in a moon blessed house somewhere between the seasons. She was quite young, and so very old. Lean in, child at the edge of the world, for her story has something to say to you.
We are made of stories, every aspect of our lives a tale. Yet we have forgotten how to connect with the mirror of healing inherent in myth, and so the difficult stories in our lives--rites of passage, death transitions, massive transformations like illness, divorce or childbirth--are born into the world devoid of mythic meaning.
In this class we will restore our relationship with the greater ongoing stories, find sacred tales from our lineage that support and nourish our current transformations--or celebrate and integrate an old rite of passage that left a hole in our soul. We will find our place in the world of myth and magic, curl at the hearth of the ancient grandmothers, the Dísir, and listen as they sing to us our new names.

When did you stop believing your life was a story worth telling?
When did the magic leak out of your daily experience?
Where have you lost your will, or voice, your song or power?

Where are you at in the myth cycle of your journey?
What are your death transitions teaching you?
What rites of passage are you missing?
What is your deepest longing?
What would you do if you weren't afraid?
Using tools to awaken our intuition, we will develop ritual practices to help us meet our stories. Over four weeks we will track our stories, engaging with them in ceremony, writing with them in animist possibility, exploring their context within our psyches, and nourishing ourselves so deeply with their soul food that we emerge ready.
Ready for what?
To live into our story. Ours. The one that authentically belongs to each of us.
Myth is a healing formula. Each story contains a potion that can awaken, anneal, align and make whole the parts of self we have abandoned in our modern journey.
When I became deeply ill, finding a story is what sustained me. Imbuing my own experience with the elements of story helped me transform my experience of chronic illness and dís-ability into a rite of passage process, so that with each underworld descent I could emerge stronger, less scared, visibly transformed.
I called this my Myth as Healer apprenticeship, and now, two years later, am eager to share the process that has helped me survive, thrive and grow through devastation and challenge.
As a gift to our community, these classes are made available by donation.
Access is a priority to me, especially in these times of uncertainty, so for now all of my classes are available with no financial barriers to access.
If you are able to donate, please consider either making a one-time donation via PayPal, Venmo or Fractured Atlas (links below) or making a recurring donation by becoming a patron of this work on Patreon:
PayPal: [email protected]
Venmo: @Lara-Vesta
Fractured Atlas (tax deductible donations via my fiscal sponsor): https://fundraising.fracturedatlas.org/sacred-art-...

Patreon Community: https://www.patreon.com/laraveledavesta

This class is a gift made possible by someone before you, and if you choose to participate in the cycle of generosity you can make a gift in turn now or at some point in the future. By creating a web of supportive community we make true social security.

All gifts help support me in creating and reweaving new visions for living, including one where I can continue to offer this work while living in alignment with my body's disability and healing.

Please note: because of my cyclic illness, class times and dates sometimes need to be revised, extended or rescheduled. This necessary flexibility makes my work possible. Because of this I cannot offer refunds. Your donation is a gift, the classes are a gift, and by this exchange we agree to reciprocity without expectation. Sending love.
As with all Wild Soul School classes, once registered you have unlimited access, even if you discontinue your patronage after the course. There is no long term commitment, and you can revisit the information as often as you like, working with the collective or at your own pace.
This is a challenging time for many of us, and I have questioned the wisdom of offering this class during such a difficult situation. But as with all I do, sharing the path is a healing, and I need this focus on creation, mythwork and reconnection to stay balanced as I navigate this time of uncertainty. If you are seeking embodied engagement, community, a place of focus and connection, I hope you will join us.
With lots of love--Lara
*Martin Shaw
**Muriel Rukeyser

Your Instructor
I'm a storyteller, artist and educator working at the intersection of image and word. My interests include folk spirituality, ancestral mythology, ritual and the sacred creative. This work is an offering. I am the author of The Moon Divas Guidebook: Spirited Self-Care for Women in Transition, The Moon Divas Oracle Book and Card Deck, and illustrator of The Runes Revealed.. You can investigate more of my work and sign up for my quarterly Myth and Moon Letters at laravesta.co.
Frequently Asked Questions
When does the course start and finish?
The course starts now and never ends! It is a completely self-paced online course - you decide when you start and when you finish.
How long do I have access to the course?
How does lifetime access sound? After enrolling, you have unlimited access to this course for as long as you like - across any and all devices you own.
What if I am unhappy with the course?
We would never want you to be unhappy! If you are unsatisfied with your purchase, contact us in the first 30 days and we will give you a full refund.